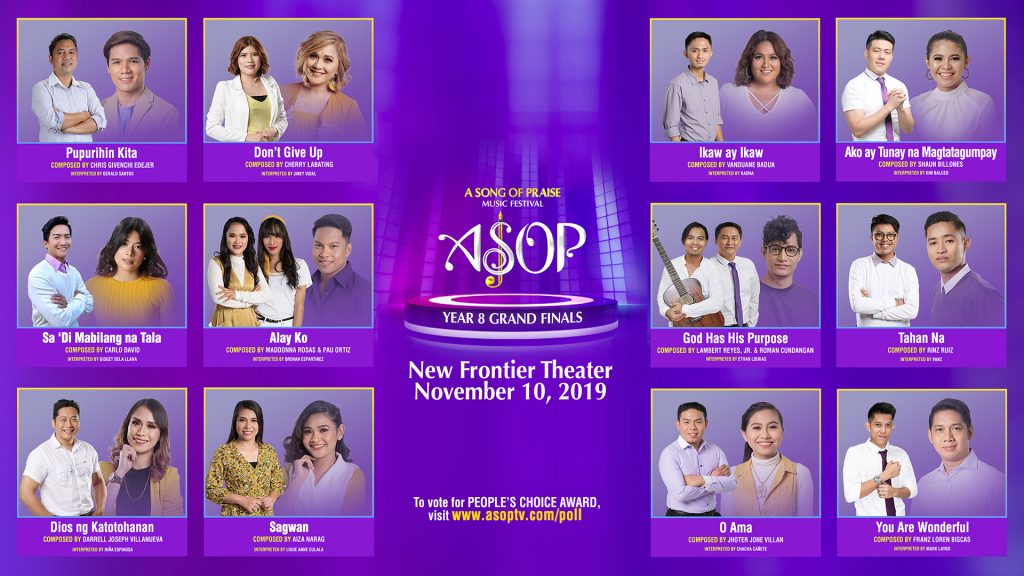 It's time to vote for your favorite!
A Song of Praise (ASOP) Music Festival Year 8 Online Voting and Power Viewing for the People's Choice Award is now open.
Fans and supporters can cast their votes once a day at the official website via their Facebook and Twitter accounts.
The People's Choice Award will be selected based on points accumulated from online voting (through Facebook and Twitter) and power viewing.
People's Choice Award is comprised of online votes (30%) and power views (70%) for the song's official music video.
Take note that only ONE VOTE per day per account will be counted.  Online Voting Period is from October 28, 12 noon until November 10, 2019, 12 noon. (View Complete Guidelines)
The Grand Finals Night will be staged on November 10 at the New Frontier Theater.
Here is the full line-up of this year's grand finalists:
O Ama – Composer: Jhoter Jone Villan; Interpreter: Chacha Cañete
Alay Ko – Composer: Maddonna Rosas & Pau Ortiz; Interpreter: Brenan Espartinez
Ikaw ay Ikaw – Composer: Vanduane Badua; Interpreter: Radha
Don't Give Up – Composer: Cherry Labating; Interpreter: Jinky Vidal
Dios ng Katotohanan – Composer: Darrel Joseph Villanueva; Interpreter: Nina Espinosa
Pupurihin Kita – Composer: Chris Givenchi Edejer; Interpreter: Gerald Santos
Sa 'Di Mabilang na Tala – Composer: Carlo David; Interpreter: Gidget Dela Llana
You are Wonderful – Composer: Franz Loren Bigcas; Interpreter: Mark Laygo
God Has His Purpose – Composer: Lambert Reyes Jr. & Roman Cundangan; Interpreter: Ethan Loukas
Sagwan – Composer: Aiza Narag; Interpreter: Louie Anne Culala
Ako ay Tunay na Magtatagumpay – Composer: Shaun Billones; Interpreter: Kim Baluzo
Tahan Na – Composer: Rinz Ruiz; Interpreter: Vanz
Vote for your favorite worship anthem in the poll.